The Faroe Islands as a tourist
The Faroe Islands has a lot to offer when you get here as a tourist. Fortunately for you, we haven't been overrun by tourists, even after being rated as the words best travel destination by National Geographic.
You will experience a completely unspoiled destination, where you are visiting the locals. The Faroese people are generally very welcoming, so don't hold back if you want to get to know the Faroese people.
Below here you can find a tourist guide, where you can read about everything for your trip to the Faroe Islands:
Take a deep breath. Open your senses and let them fill your mind. You will be amazed that such a places still exists in this world. Uncluttered and affordable, easy to travel around and get to know, yet infinitely varied and changing.
Find inspiration in this the latest Tourist Guide below: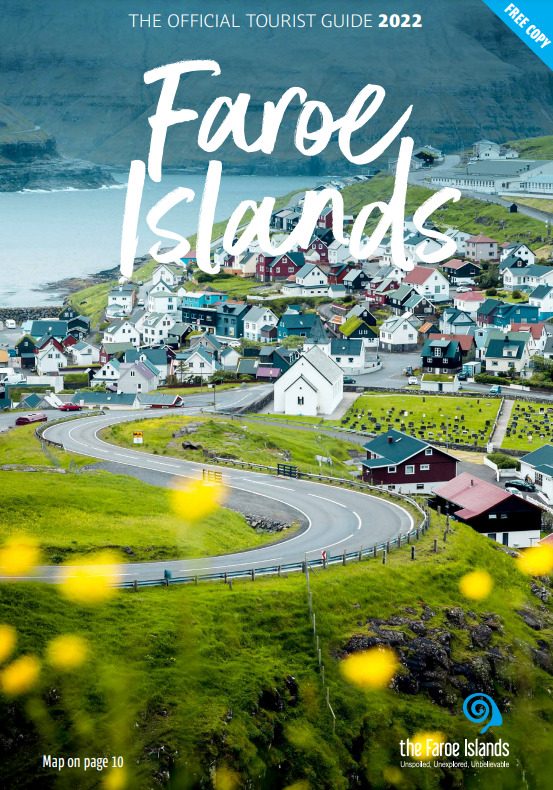 Trips to the Faroe Islands
When you travel to the Faroe Islands with Make Travel, you're able to choose between a lot of different packages, which all include flying/sailing and accomondation. We represent the best hotels, and have great opportunities for other accomondations, such as cottages, apartments and Bed&Breakfast..
In all our packages you'll have the opportunity to rent a car, so that you can experience the islands on your own terms..
We offer short weekendtrips to our capital, Tórshavn, and longer trips where you will experience the whole country. These can be both with and without a local guide. There are also numerous activites and events around the islands – see more under "what's happening".
The Faroe Islands are our only destination, so with our experience and passion we'll have the opportunity to meet all your demands and wishes. Make Travel can personally tailor a trip just as you want it – all you have to do is ask, and we will figure something out.
Fly to the Faroe Islands
You can get to our 18 islands either by ship or by plane. You will be flown by the faroese national airline Atlantic Airways, and it is possible to fly to the Faroe Islands by Denmark, Scotland, Norway, Iceland and Spain.
Atlantic Airways take good care of their customers, with free coffee and soft drinks onboard. So just sit back and enjoy the trip, and land refreshed in the Faroese.
SAS did in 2017 introduce a daily service to the Faroe Islands from Copenhagen.
The Faroe Islands got a completely renovated airport in 2014, and lives up to all the expectations you would have for a modern airport. After arrival you will pass through the TaxFree and restaurant areas, before getting to the baggage claim.
If you wish to go by sea, then M/S Norrøna is your choice. It sails from Iceland and Denmark. The ship was built in 2003, and can hold 1.500 passangers and 800 cars.
Accommodation on the Faroe Islands
The Faroe Islands offer all sorts of accommodation. There are 23 hotels and guesthouses, and the possibility to stay at one of the many private apartments and houses that Make Travel offers. Staying in a private home gives you the opportunity to get closer to the local community and the welcoming people.
The 9 hotels are spread across the Faroe Islands, although most are located in the capital, Tórshavn – and has been classified between 1 and 4 stars, on the 5 star ladder. Guesthouses and private accomondations varies a bit.
There are also a lot of camping sites popping up around on the islands, and gives you the opporunity to visit almost every part of the Faroe Islands with a caravan or tent.
Holidays on the Faroe Islands
The Faroe Islands have never been a holiday destination. It's far out in the North Atlatic Ocean, and was rather difficult to reach.
Today it's different, nice and easy to reach. Fly with the faroese national airline, Atlantic Ariways, which takes approximately 2 hours from Denmark – or sail with Smyril Line, onboard their ship Norrøna, which takes approximately 36 hours from Denmark.
The standard and quality of the transportation is of course high, and meets any modern needs, wether it be by air or sea.
The best way to travel and experience the Faroe Islands is by car – wether you bring your own with the ship, or rent a car. The roads on the Faroe Islands are good, and most of the islands are connected with bridges or tunnels. This makes it possible to visit most of our fantastic villages and gives you the chance to see the great contrasts that exists in our small country.
Of course you could also choose to spend your time in the Faroe Islands with a backpack, caravan or bycicle. If you have any questions or have a request for Make Travel to put together a special package, you just have to contact Maria or Kent on telephone +298 23 21 00 (FO) og +45 2777 1234 (DK) eller på mail make@make.fo. Sammen finder vi helt sikkert ud af sammensætte din næste rejse til Færøerne.